★[ROM][4.2.2][July 3] Hyperdrive RLS5.7 ¯`•._║ EPM ║ Custom Tweaks ║ Evolve your S4 ★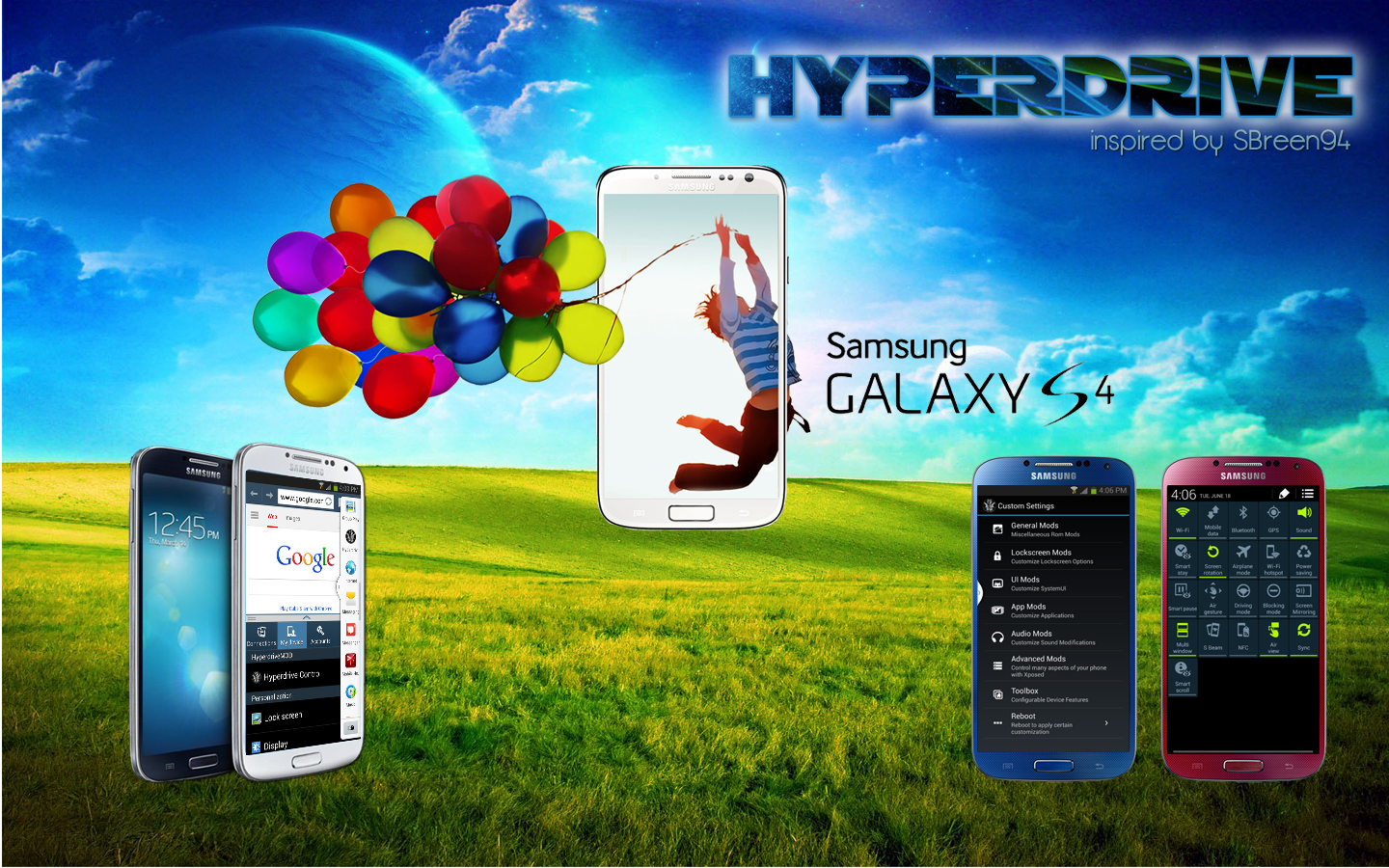 This is it..The Most Customizable and Full Featured Rom for your Galaxy S4
I am not responsible for anything that may happen or happens to your phone as a result of this custom firmware. You are choosing to install this yourself and thus assume any risks involved

.

Android 4.2.2 JB TW I545VRUAMDK
Kernel: Stock Optimized Kernel
Deodexed
Zipaligned
Multilanguage

Hyperdrive Control- It All Begins Here
HyperdriveOTA- download Rom Mods, Apps, Fixes and New Content ( See below
Custom Settings-a HUGE collection of Customizable Tweaks (see below)
Custom Hyperdrive Wallpaper Chooser
Custom Hyperdrive Extended Power Menu
Bashed
Busybox
Sysro/sysrw command support
data/app support
init.d support
Latest SuperSU + su binaries

Full Galaxy S4 TW Functionality
Multiwindow Enabled for all apps natively without 3rd party app
Music Control:
-Volume Rocker Skip Music Tracks with Toggle ON/OFf and user defined Parameters
-Button Skip Delay Timeout
-Volume Up key action
-Volume Down Key action
Long Press Menu to Kill Current App with Toggle ON/OFF
Screen Animation Control:
-No Sceen Off Animation
-CRT-TV Off Animation
-Fade Off Animation
-No Screen On Animation
-Fade Screen On Animation
Notification Panel:
21 Total Extended Quick Notification Toggles
- Wifi, Mobile Data, GPS, Rotation, Sound, Smart Stay, Airplane Mode, Wifi Hotspot, PowerSaving, SmartPause, Air Gesture, Driving Mode, Blocking Mode, Screen Mirroring, Multiwindow, Bluetooth, S Beam, NFC, Air View, Sync, Smart Scroll
Lockscreen:
-Home Button Wakes Phone with Toggle On/Off
-Ink Effect with 8 colors on the Ripple Lockscreen
Clock:
-Clock Postion (None, Center, Right )
-AM/PM Size (None, Small, Large)
-Day of Week size (None, Small, Large)
-ANY Color for Clock
Status Bar
-Keyboard IME Switcher w/ Toggle ON/OFF
-ANY Color for Status Bar
-Smart Hide/Show Alarm Icon
-Choose a Custom Battery Icon
-Choose Circle Battery color
-Choose Circle Battery Text color
-Choose Circle Animation Spped
-Enable Custom Battery Bar
-Battery Bar Color, and Style
-Battery Bar Charging Animation
-Battery Bar Thickness
Hyperdrive Custom Extended Boot Menu:
-Power off
-Airplane Mode
-Restart
-Recovery
-Download Mode
-Flashlight Torch
-Bug Report
User Interface :
-Best Brightness Mod
-AOSPA style PIE Controls
-LED Control
-Icon Changer
-Custom Fonts
-FlashBlink Torch
System:
-NFC works from Lockscreen
-Unlocked Verizon Wifi Tethering
-Device Status Reads as Official
-Disabled Signature Check
-Patched Services.jar to prevent redraws
-Unplug Doesn't turn on screen
-Anti-Aliased
-Edge Zoom Toggle on/off
-Enable/Disable Nav Bar
-Enable/Disable Boot Animation
-Driving Mode
-Blocking Mode (WIP)
Phone:
-Fully Native Call Recording
-No Increasing Ringtone
Contacts:
-Join Unlimited Contacts
-Unlimited Contact Name Length
Messaging:
-Scheduled Messaging, Group messaging
-Screen on/off messaging toggle
-Message vibration and Signature options
-Save/Restore Messages
-SMS 1000 recipient limit enabled
-SMS limit per hour increased
-Enabled Split-View Mode On/Off Toggle
-Increased Max MMS and Image Size
-Disable SMS-MMS Auto Conversion
Camera
-Shutter Sound on/off menu
-Disabled Low Battery Camera Handicaps
-Use Camera while on a call
-Zoom/Shutter with Volume Keys
-Additional Shooting Mode Tweaks
-Higher Video and audio bit rate in camcorder
-Android 4.3 Camera w/ Photosphere and new options added
Launcher:
-Hacked for Insane Speed
-Infinite Scrolling
Browser:
-Exit Browser
-Terminate Browser
-Open Unlimited Tabs
Removed from Rom:
-All Verizon Bloatware and branding
-Full Battery Charge Notification
-GPS icon from status bar
-Ongoing Wifi Notification
-Smart Stay Icon
-Samsung and Verizon OTA updates
-Ongoing notifications and annoying icons
-Trip advisor and Samsung Kies
-All Amazon Apps and widgets
-Easy Mode: Settings, apps and widgets
Miscellaneous:
-Pure X Studio Audio Engine
-Pure Screen HD
-Sony Bravia Engine
-360 degree rotation throughout all apps
-Muted Boot and Shutdown Sounds
-Custom Hyperdrive Bookmarks
-Fixes for OTG wakelock and Media Scanner drain
Advanced:
-Xposed Framework Installer
-Per-App DPI Settings
-Custom Theme Engine
-Nottach Xposed
-Kernel Control
-CPU Information
-Samsung Secret Codes
-GPS Quick Fix
-Media Battery Drain Fix
Apps:
-Es File Explorer
-cLock from CM10.1
-Genie Widget
-White Samsung Keyboard from i9505
-Download All Files
-Popup Browser Resizable to ANY size
-Emoji Keyboard
-Inverted Youtube with Screen off Playback and Tweaks by The0sis

HyperdriveOTA

CHECK the OTA Feature in Hyperdrive Control for any Missing apps and also for new cool tweaks, features and mods!

Google Applications
-Google Books
-Google Magazines
-Google Movies
Rom Mods
-Ad Blocking
-Hidden Language Enabler
-Adobe Flash
General Applications
-Apollo Music
-CM File Manager
Verizon Applications
-Verizon Bloatware
-Amazon Bloatware
Samsung Applications
-AllSharePlay
-Samsung Kies
-Transparent Accuweather Widget
Launcher Mods
-Stock with Scroll
-5x6 Launcher
-5x6 Launcher with Scroll
Performance Modifications:

Full Optimized and Tweaked
Improved EXT4 Performance
Full GPU UI rendering
Custom init.d tweaks for insane performance
Build.prop tweaks
Disabled Scrolling Cache in Framework
Cron
ZRam
Battery Callibrator Binaries
RAM Optimizations
Memory Optimizations
Network/Wifi Speed Enhancements
Sysctl Enhancements
Sqlite3 database Enhancements
Higher Video and playback rate
Better Image and Panorama Quality
Amazingly Smooth UI
Excellent Battery Life
Speed and performance that are legendary on your GS4!

1. You MUST be able to READ
2.You MUST be ROOTED
3. You MUST have a Loki'd recovery(Like TWRP/CWM) installed!

1. Download latest Hyperdrive Rom version
2. Reboot into Loki'd Recovery
3. Wipe Data/Factory Reset 3x
4. Wipe cache/dalvik cache & wipe system
5. Install Rom
6. Reboot (First Boot may take up to 10 mins)
7. Read through FAQ!!
8. Read Through Changelog
9. Let Phone sit for 5-10 minutes
10. Reboot again
11 Enjoy!

RLS5.7
Mirror (AFH)
md5 sum: 344df2236454c9a53febec92b6323847