[ROM] WICKED™ v4 [MDL] Full Customization [Rom Control] 6-22-13
WICKED is a debloated TouchWiz based rom
WICKED still retains all Samsung features and many more added for a better overall TouchWiz experience
With the addition of WICKED ROM CONTROL the user has to ability to customize their phone in ways that can only be found in AOSP style roms but now can be used with TouchWiz stability!
Expect better battery life, smoother UI, less lag and the usual WICKED stability & performance
-Features-
M919UVUAMDL Base
Deodexed
Rooted
CIQ free
Debloated
Zipaligned
Init.d Support
Native tethering
Bluetooth tethering
Rom Control
Full user customization
CRT animation
Extended power menu
Menu to Kill
All apps in multiwindow
Batch Optimized
Custom Shutdown QMG
Custom Startup QMG
Startup and Shutdown Sounds removed
Battery Tweaks
Network Tweaks
UI Tweaks
Memory Optimization Tweaks
EXT4 Tweaks
Sd Card Tweaks
Mms Tweaks
True HD color rendering
Anti Aliasing
Transparent Weather Widget
Inverted Transparent Multiwindow
Ad Blocking
100% battery mod
Build.prop Tweaks
SuperSU
Themed SystemUI (white)
Themed wallpapers
Icon changer
Font changer
Custom Icons
Custom wallpaper app
Wifi Calling
MMS Over Wifi
Non Increasing Ringtones
Nano
Sysro
Sysrw
BusyBox
etc.
The rom is debloated by about 500mb
Since the s4 still doesnt have a working Aroma installer (no touch response) I broke the bloat up in 4 sections, all in flashable zips!
Added separate zips for Add-ons also (stock theme, bootanimations, multiwindow mod etc.)
Any and all bloat that can be downloaded from the market has been removed! (maps, books, music etc.)
Download Rom to SDcard
Reboot into Recovery
Full Wipe
(data, cache & dalvik cache)
Flash the Rom
Reboot System
Let the Phone Sit for 5 minutes
Reboot
Enjoy
Some stuff in ROM Control is still in beta!
Some ROM Control mods require a reboot to stick!
You can only change color of the Circle battery icons!
When changing colors you must move the Alpha slider to the right or the color will be 100% transparent!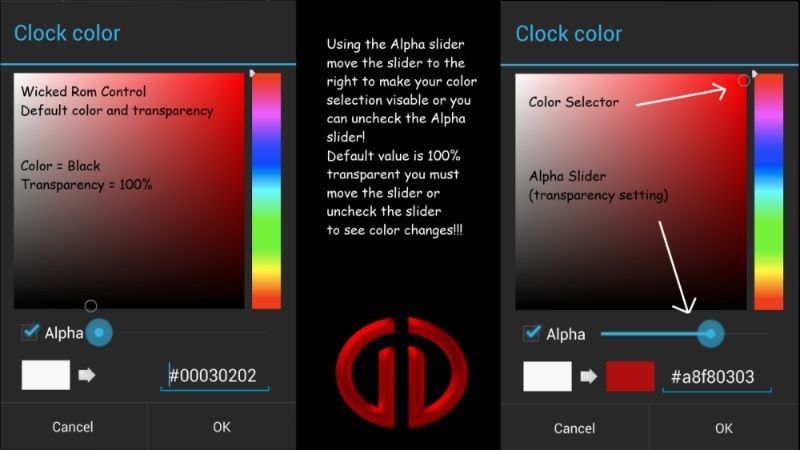 6-22-13
Full Rebuild
Added Rom Control
-change clock color
-change clock location
-add or remove am/pm
-add or remove date
-change battery icons
-change circle battery color
-option to add battery bar
-change battery bar color and size
-change statusbar color (still in beta)
-remove alarm icon
-remove keyboard icon
Added Icon changer
Added custom icons (blue)
Added font changer
Added custom wallpaper app
UI tweaks
Speed tweaks
Build prop tweaks
True HD coloring tweak
Anti Aliasing tweaks
CRT animation
Native tethering
Bluetooth tethering
Removed more unused code and libs

5-27-13
Themed SystemUI
Added 100% Battery mod
Debloated some more
Added Sd card tweaks
Tweaked UI some more
Added non increasing ringtone
Themed wallpapers
Removed all apps multiwindow mod
Made zips for bloat and mods
Fixed mms over wifi
Added menu to kill
Inverted Multiwindow
Removed 180 rotation
Mms tweaks
Cleaned up framework
etc.

5-15-13
Full rebase on new OTA
Added all apps to multiwindow
Added extended power menu
Themed battery white
Transparent weather widget
Fixed root permissions
Added smoother ui tweak
Changed startup animation
Added Deviant kernel
Added some widgets back
Framework tweaks

5-5-13
Initial Release